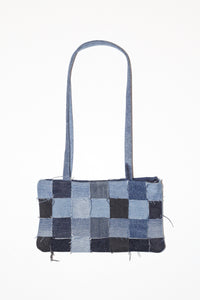 Bag Details:
Strips of handwoven upcycled denim.
Full lining.
Snap closure.
Length - 16cm, width - 28cm.
Made from upcycled denim jeans and discarded denim samples.

Each piece is unique. Please note that the colour and denim finish will vary depending on the denim legs used. Each piece is at least 96% cotton.
Made by Ashiya in Melbourne.